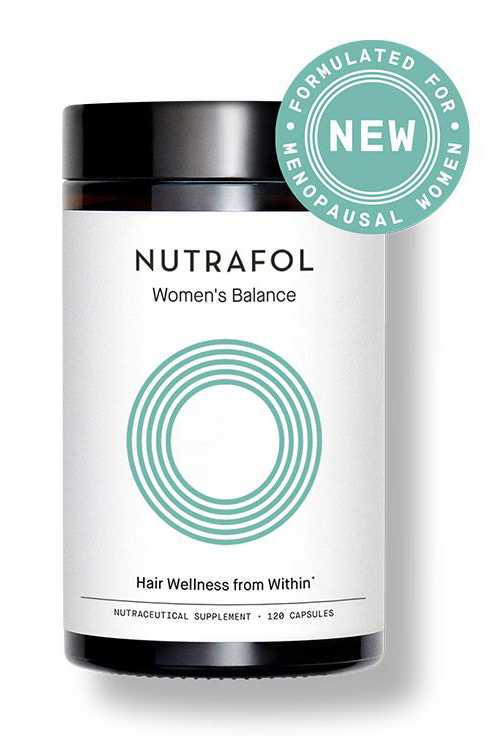 Nutrafol Women's Balance
Noticing that your hair has started thinning due to changing hormone levels? This is a common situation for women in peri-menopause and post-menopause.  But we've got a terrific solution... Nutrafol Women's Balance.
It's formulated with natural ingredients that target key underlying causes of compromised hair growth and is specially designed for women before, during and after menopause. Nutrafol's 100% drug-free, multi-targeted approach has been recognized and trusted by the wider scientific and medical communities.
We all know (despite our fondest wishes) that nothing happens overnight. However, when you commit to using Nurafol Core PLUS, you'll be getting a targeted supplement that effectively addresses some of the underlying causes of compromised hair growth.
Benefits:
Better Hair Quality: Helps improve strength, shine, manageability, density, softness, texture, and faster hair growth.
Hair Growth: In a clinical study, 80% of women saw an improvement in hair growth.
Overall Health: Formulated with Maca to help reduce hot flashes and Ashwagandha to target stress and fatigue. Other key ingredients help improve sleep, immune system, skin and libido (!) YAY!
Effective: Medical-grade, standardized and bio-optimized ingredients for safety and efficacy.
Ingredients:
EVNolMax (Tocotrienols): A potent form of super vitamin E that has been shown in a clinical study to support healthy hair growth.
Sensoril® Ashwagandha: Clinically tested to decrease the levels of hair damaging stress hormone Cortisol and C-reactive protein (CRP) and improve resistance to stress in highly stressed adults.
BCM-95® Biocurcumin: The "Swiss Army knife" of botanicals, curcumin is a potent antioxidant and has been shown to lower biomarkers, like CRP, in clinical studies. Extracted from turmeric, curcumin optimizes the immune system and fights many dysregulating molecules that interrupt hair growth.
USPlus® Saw Palmetto: Extracted with a dual-patented CO2 ultra-high-pressure technology. Saw palmetto is shown to help prevent testosterone conversion to DHT, a naturally occurring hormone in the body that contributes to thinning hair by shrinking hair follicles.
Hydrolyzed Marine Collagen: Sourced from North Atlantic Cod, marine collagen is known to promote healthy hair, improve moisture, and promote the diffusion of nutrients. Hydrolyzed to a low molecular weight for better bioavailability.
Black Pepper Fruit Extract: Extracted from the black pepper fruit and standardized to 95% piperine, the patented Bio-Perine® in Nutrafol plays an important role in the absorption of bioactive nutrients that are necessary for healthy hair. Its active ingredient, piperine, enhances the body's ability to produce heat and energy, which allows many of the vitamins, minerals and amino acids in Nutrafol to be absorbed and utilized more effectively.
Also includes: Biotin, Cayenne Pepper Extract, Horsetail Herb Extract, L-Lysine, L-Methionine, Reservatrol, Selenium, Vitamin A, Vitamin C, Vitamin D, Organic Kelp, Zinc.